Menu Assessments for Aged Care Settings
Are you due for a Menu Assessment? 
Having your menu assessed regularly by NAQ Nutrition's Aged Care Nutrition Advisory Service (ACNAS) team ensures your menu:
Provides the nutrition quality to meet the requirements of the Commonwealth Accreditation Standards
Aligns with the Australian Dietary Guidelines and caters for the unique nutrition and hydration needs of the elderly
Promotes resident choice, dignity and a positive dining experience for your residents.
Completed by our team of Accredited Practising Dietitians experienced in aged care, we liaise closely with your facility at each stage of your Menu Assessment to ensure your needs are met and questions are answered.
We recommend facilities have their menus assessed annually or more often if changes have been made to the menu.
What is involved in our Menu Assessment process?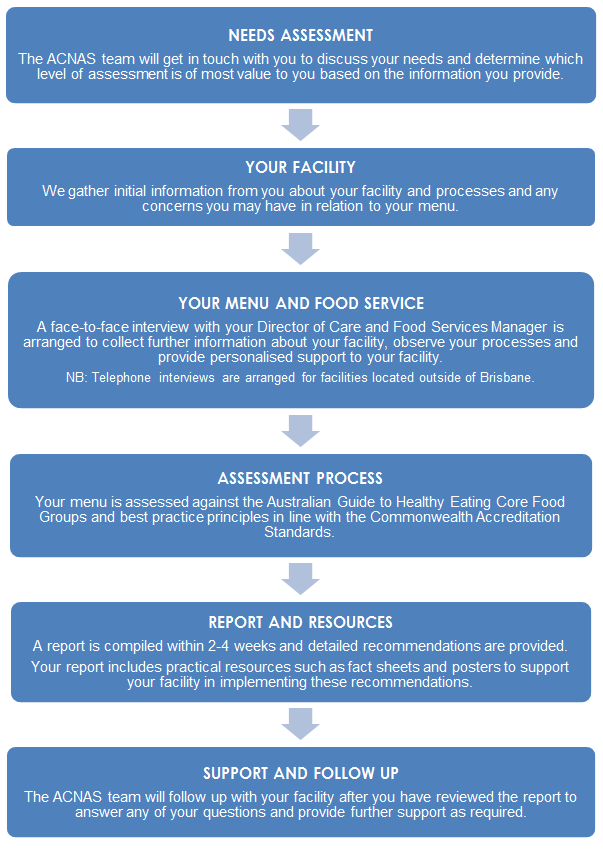 For more information or to book a Menu Assessment for your Aged Care Facility:
Call the ACNAS team on (07) 3257 4393 or email acnas@naqld.org